Faith In Action
House Charities
Each House, led by the Year 6 House Captains, have selected a charity close to their hearts and will organise a charity event to raise money for these worthy causes. Below shows the selected charities for the upcoming year:
St Anne: S.M.I.L.E London and Essex
St. Anne's House organised a Christmas shoebox appeal to help families living in poverty in the Essex and London areas. For information about this appeal please click here (S.M.I.L.E)
A message from our Year 6 House Captains: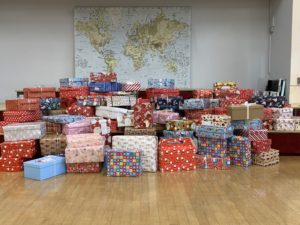 St. Edward: Richard House
St. Helen: St. Francis Hospice
St. Paul: The Trussell Trust
Laudato Si'

On the weekend of the 2nd/3rd October, the Diocese of Brentwood Launched Laudato Si' Invitations, Commitments and Actions in response to the plea from Pope Francis to, '"Listen to the cry of the earth, the cry of the poor."
Our school community is committed to playing our part in caring for for our common home.
In school, we have been learning about the words of Pope Francis in his encyclical letter, Laudato Si' and have made pledges about how we can help protect our Earth for ourselves and for future generations.
St. Mother Teresa of Calcutta said:
"Is what I am doing to serve the poor just a drop in the ocean?
Yes. But many drops make a different ocean"
Children wrote their pledges on teardrops, inspired by St. Mother Teresa's words.
Here are some websites if you would like to find out more about Laudato Si' and the Diocese of Brentwood's response to this:
https://www.dioceseofbrentwood.net/laudatosi/ 
https://cafod.org.uk/Education/Primary-teaching-resources/Laudato-Si-for-children 
Laudato Si Letter from Pope Francis
CAFOD Fundraisers
Big Lent Walk 2023
On Friday 23rd February, we were visited by Mr. Jones, a friend of St. Joseph's and a CAFOD volunteer. He told the school community about how CAFOD use our donations. We heard about a young girl called Dristy and how her family are supported in Bangladesh.
Mr. Jones also spoke to the children about CAFOD's Lent initiative: The Big Lent Walk which we will be fundraising for this half term (more details to follow!)